Instructors: Using the Scanning Job Tracking System (JTS) Interface
New feature: Convenience is key as instructors can now access their reports and view their scanned forms online! While there's no longer a need to pick up reports or forms in person, you can still do so if you wish. (Note that forms are stored for one year and then shredded.)
Navigating to the Website
To log in, go to https://java.odl.fsu.edu/JobTrackingSystem (case sensitive) and enter your FSU credentials.
Your main page will look like this:
(Click image below to enlarge it)
Ordering Forms
Your forms will be ready when you are! To order, click on Order Forms. The following page will ask you the type of forms you need, how many, which class needs them, and if a runner will be picking them up for you. Note that we are currently unable to deliver forms to the Strozier Library.
(Click image below to enlarge it)


You can place orders in increments of 500 forms, up to 5,000, to pick up at Assessment & Testing (University Center Building C, Room 2200). After your order has been submitted, it will be ready for pickup by the end of the next business day. You can verify your order has been filled and is ready for pickup by calling (850) 644-3017 or by emailing [email protected].
Modifying your Form Order
The option to modify your order is also available. Simply follow these steps:
On the main page, locate your order in the "Requested Jobs" table.
On the corresponding order line, click View Order.
On the next screen, click Edit This Order.
Update your order and save any changes.
Sample page for changing a Form Order:
(Click image below to enlarge it)

For form type description and other available options, please visit FSU's Form Scanning page.
The Scanning Process
Part 1: Drop-off
Drop the completed exams/surveys at the drop box in Assessment & Testing (UCC 1st floor through the double set of doors). Instructions for using the drop box are posted on-site for your convenience.
Part 2: Pickup/Reviewing Results
If you would like to receive the physical forms once they've been scanned, you can pick up your scan job at the same location as your drop-off. However, picking up your scanned forms is optional. You can now view your scanning report, scanned forms, and data entirely online; there is no need to pick anything up in person.
We will notify you by email that the results are ready for viewing, which may take 3-5 business days. All scanned jobs that are not picked up will be stored for one year and then shredded.
Keep in mind: If you wish to pick up your scanned forms, you will need to bring your FSUCard.
Your Reports and Data
Your reports will be available for viewing when you receive our notification email. To view your reports, go to the main page and locate your order in the "Requested Jobs" table. After your scan job has been processed, a Get Reports option will be available for that order. From the "Get Reports" page you can review and print the reports you ordered, get copies of the raw data that was scanned, and even edit your answer key or change the report options.
A sample scan job report page:
(Click image below to enlarge it)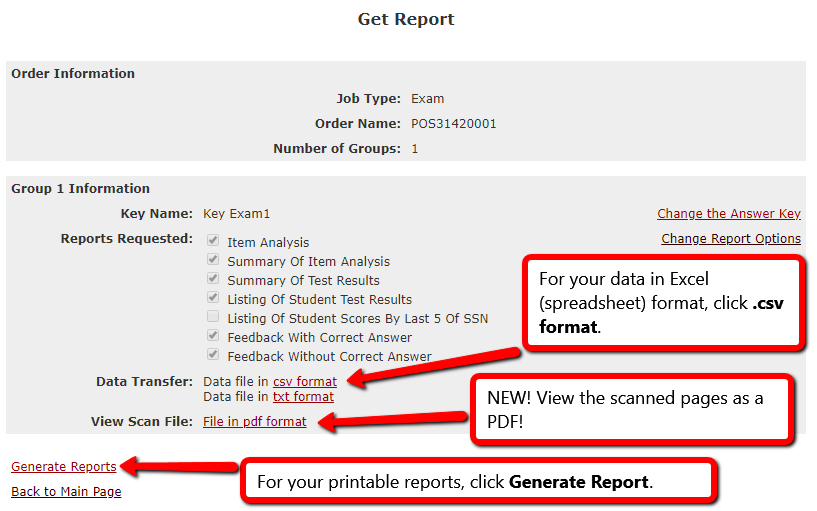 If any errors were flagged, they will display to the right of the csv format and File in PDF format links. If you do not see an error file, then your scan job did not pick up any errors. Please note that If there were errors, it is best to review the "error file" first because this text file will detail which of your students' forms contained errors, and what types of errors were found. This file will also contain directions for how to view the forms that contain the noted errors. The "Error forms" link will open up a PDF of all the forms that contained an error so that you may more easily review.
(Click image below to enlarge it)

Changing the Answer Key
Instructions: Inside the box below, click the question you want to change. Blank answers are still accepted at this point (just leave a blank space). Use UPPERCASE letters when making your changes. When finished, click the Save Changes button. To get your new reports, click on Generate Reports on the reports page.
Change the answer key sample page:
(Click image below to enlarge it)